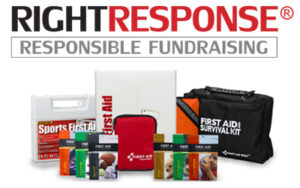 First Aid Kit Fundraising Program
Help Oregon HOSA Chapters raise money to support scholarships!
Right Response is an officially endorsed fundraiser by National HOSA and Oregon HOSA. Any Oregon HOSA chapter that conducts a fundraiser through Right Response will receive 50% of the profit and scholarship money will be provided to HOSA students at the state and national levels.
50% PROFIT
First aid kits available for home and business
No money up front
No contracts
No minimums
FREE shipping
Right Response will sort and pack each order by seller
Most kits sell for $15.00 retail (you make $7.50)
Proudly built in the U.S.
Referral program (you can make 5% on a referral)
Business kits meet American National Standards Institute (ANSI) standards and are Occupational Safety and Health Administration (OSHA) approved
For more information about conducting a Right Response Fundraiser, email customerservice@rightresponsefundraising.com or visit their website, rightresponsefundraising.com.